Company
With more than 25 years of experience in the Greek market of Leasing, HC Leasing is one of the leaders in the sector, recognized for its reliability and efficiency, both amongst customers and employees.
Having started its activity in the Leasing Industry in the late 80's, the company quickly developed momentum and won the trust of the Greek and foreign large and medium-sized companies.
Since the end of 2014, the company, having set a strong foundation for its further development, has been trading independently in the Greek market. On the basis of this operational independence, HC Leasing represents one of the best options for cooperation, characterized by speed and flexibility in the solutions offered to its customers.
The dynamic presence of HC Leasing in the Greek market and its substantial growth prospects are proven in practice by the breadth of its clientele which includes among others, companies like OPAP, BIOHALKO GROUP, K. PHILIPPOU GROUP, INTRACOM TELECOM, VOLVO, DAF, MAN, HARAGHIONIS GROUP and FOLLI FOLLIE.
Management / Organization Chart
Human Resources
The human resources of the company amount to 30 persons. Hellas Capital Leasing S.A workforce is experienced in every sector, a fact that contributes decisively to the positive development of the company. The staff of the company has all the competence and qualifications required for the performance of functions undertaken and, in parallel, has participated in all the necessary training programs. The company sees to it that it provides its staff the possibility of continuous training, so that they remain at the cutting edge of new technologies.
Evangelos Polychroniades
Real-Estate Supervisor
+30 210 6783 143
Anastasios Vrouvas
Equipment Supervisor
+30 210 6783 140
Organization chart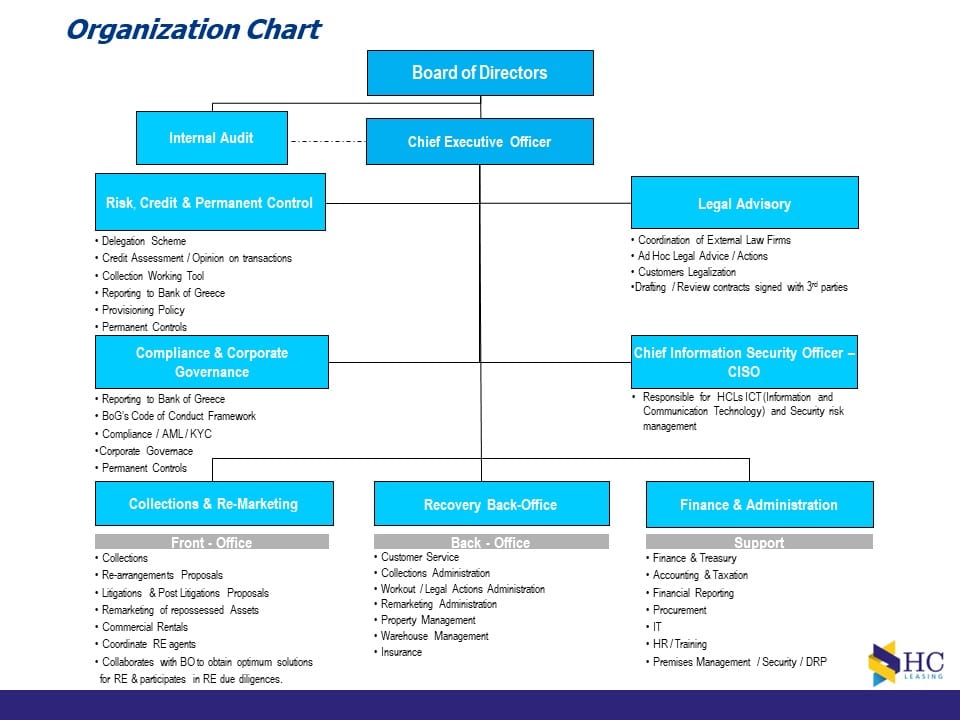 Financial
Financial data and statements
Select the corresponding year to view the financial data and statements of Hellas Capital Leasing S.A.
*All files are in PDF format.